Welcome to Grade 1/2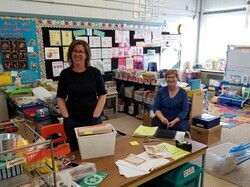 Sept 2020:
Welcome back to school. We have missed you! We are looking forward to having students back in our classroom. We are prepared and can hardly wait for you to arrive. It has been an unusual year, with many challenges for all of us. We have had to adapt in so many different ways, and appreciate all the support you have shown so far. Please continue to pray for our classroom, as we continue to pray for each of your families.  Despite all of the unknowns, God remains in control, and we trust Him for a fantastic and fulfilling year! 
Our theme verse for this year points us to this truth.
"For God did not give us a spirit of timidity, but a spirit of power, of love and self-discipline." -2 Timothy 1:7 
Mrs. Blake and Mrs. Larsen-Wall
(Contact us HERE)


Important Info
Here is some important information for you for the upcoming year. 
Teacher News:
Mrs. Larsen-Wall will be teaching Bible Memory, Language Arts and Math in the morning.  You can contact her via her school email suzanne.larsen-wall@pallisersd.ab.ca, or you may call the office during school hours. 
Mrs Blake will be teaching Bible Study, Social Studies, Science, Art and Health in the afternoons. You can contact her via her school email laurel.blake@pallisersd.ab.ca, or you may call the office during school hours. 
Due to the unusual circumstances this year, we have decided on the following changes. These may change the the year progresses.  Please discuss the changes with your children. 
Please do

not

send any extra items with your child, as they will have to remain in their backpack, and your child will not be able to use them throughout the day. 
Because we cannot accommodate extra items coming to school, we will be unable to do "Show and Share".
Unfortunately, we will not be able to accommodate treats for birthdays.
Library will be on a Tuesday this year, and precautions have been taken to ensure safety. 
Please ensure your child's art shirt is labelled and in a ziploc bag, as it will be stored at school. 
The extra change of clothes will not be able be stored in the classroom. Instead, it will need to be in a ziploc bag, and stored at the bottom of your child's backpack.
Unfortunately, parents are not allowed in the school building. Mrs. Larsen-Wall will meet them at the front doors on the first day to ensure they get to their correct classroom. After this, Mr. Bailey will be meeting them to make sure they get to their class. Mrs. Blake will accompany them out at dismissal time to ensure they get on the right busses, or are safely on their way. 
School arrival and departure routines
Arrival at school:
Bus unloading will be staggered, and students will be checked at the front doors by Mr. Bailey upon entry to the school.  
Students will immediately go to their classroom, and be met by Mrs. Larsen-Wall.  When called upon, they will go to their coat hooks in their cohort groupings to hang up their coats and backpacks. 
Departure: 
Dismissal will also be staggered.
As our students will be the last dismissed, Mrs. Blake will accompany them to ensure they head home safely. 
  Covid Precautions
We will not be sharing supplies this year. This includes pencils, crayons, scissors, math and other manipulatives. Individual packs will be kept in their desk for student use. 
The books from the class library will be kept in plastic book bags at their desk, and once returned will remain in an isolation bin for the appropriate time.
We have two sanitation stations within the classroom, and students will be sanitizing their hands on a regular basis. This includes when they enter the classroom, before snack and lunch and exiting the classroom to go to other rooms in the school.
Desks will not contain individual hand sanitizers. 
We will be cleaning the classroom on a regular basis to ensure cleanliness.
We will be keeping our windows open as weather permits to ensure the circulation of fresh air. Please be sure to send a sweater with your child. It will sit on the back of their chair, in case they get chilly.